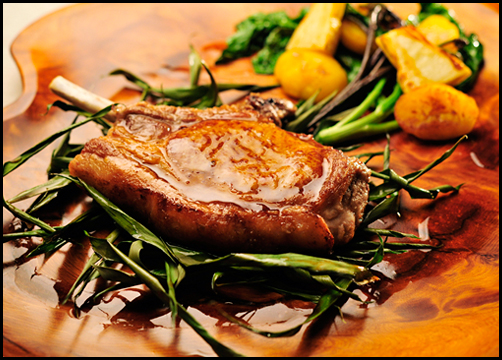 The auberge-style adopted at sankara means it's like a French restaurant at which guests can stay overnight. We offer sensations that can only be experienced here, through the finest quality cuisine and dining atmosphere. Our chef applies his wisdom and techniques honed in the leading gourmet city of Tokyo to creating new epicurean delights from ingredients grown in the natural abundance of Yakushima.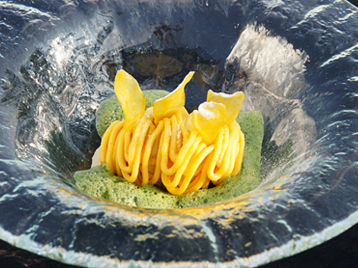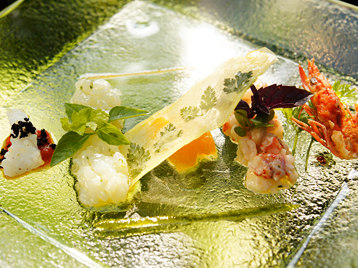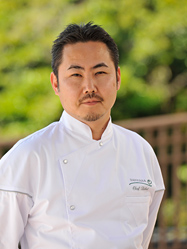 Born in Gunma Prefecture in 1966. Trained at Chez Inno and Taillevent Robuchon in Tokyo, then relocated to France at the age of 28. Trained at Three-Michelin-Star restaurants including Joel Robuchon and Maison Troisgros.
Returned to Japan in 1998. Served as head chef at the restaurant mikuni Marunouchi and at the auberge arcana izu. He is an outdoorsman whose interests are scuba diving and mountain climbing.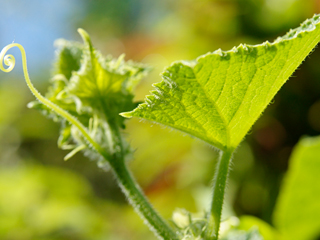 The search for quality ingredients naturally began on Yakushima and extended to Tanegashima, Kagoshima, Kumamoto, and Nagasaki, by visiting producers across the open sea. This search was carried out over time with great care. To a chef, understanding who raises what and how they do it is vital information for drawing out the natural power of these raw materials. In the pursuit of creating unique flavors, many relatively unknown ingredients are employed. For example, the beef of Kagoshima black
cattle from Nakayama farm in Izumi is succulent red meat with a robust flavor. The search goes on, resulting in many other great discoveries and developments. You can be sure to expect wonderful tastes found only at sankara.

Original tastes from fresh ideas based on orthodox French cuisine, using quality ingredients. Visual appeal is another vital aspect. "I want the dish to look beautiful. It cannot be too complicated, either," says Chef Takei. "If you make a dish too complicated, the guest will not understand or appreciate what they are eating, which makes it meaningless for the chef as well." Each dish must communicate. This balanced reciprocity is the essence of hospitality that sankara aims to achieve.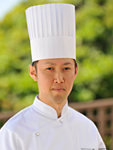 Chef de Cuisine
Tsutomu Seshimo

Born in Nagano Prefecture in 1977. Entered Societe Mikuni Co., Ltd. at the age of 19 and worked as Kiyomi Mikuni's assistant for five years. Served as head chef at the JR Tower Hotel Nikko Sapporo café restaurant Serena, chef de partie in the Grand Hyatt Tokyo's French Kitchen, and head chef at an auberge in Izu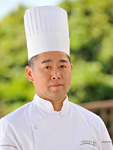 Chef Boulanger
Mitsuhiko Sato

Born in Tokyo in 1968. Started breadmaking at the age of 22. Trained at a famous bakery in Tokyo, then worked at Maison Mikuni for five years as a bakery chef. On meeting Chef Takei he reaffirmed his calling as a breadmaker. Having worked in the Mikuni Group for 20 years, he is now on the staff at sankara.

Two restaurants are at the heart of the auberge. On the first floor is ayana, a casual restaurant, and on the second floor an authentic French full-course dining experience is available at okas.