Connect with Yakushima through
your SANA-being experience
Listen to yourself
Discover yourself

Your stay in Yakushima will offer you the energy from the abundant nature, the essence you have will be fulfilled to restore your energy. Rebalancing your holistic wellness can achieve healthy lifestyle and this explains the meaning of "SANA-being".

Ocean & mountain, forest & water, rain & sun, the bounty of nature creates beautiful harmony to present the rich nature in Yakushima.
sankara SANA therapist will assist you to fulfill your entire spa experience with these three essences.

The essence of rain & water in Yakushima SUI
The essence of sun & fire in Yakushima YOU
The essence of forest & mountain RIN

Your therapist can also give suggestions of selecting your menu which is the best suit for you.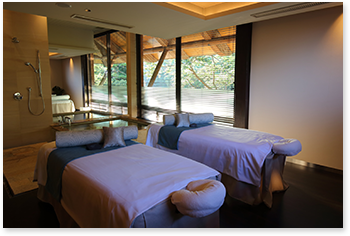 The treatment rooms show the theme of ocean, it gives a soothing inspiration and decorated with chic, elegant tropical essence. The rooms are filled with the aroma of fragrant herbs to relax your entire body.
There are single and couple treatment rooms to accommodate treatment as couple, friends or family.
・Counselling room
・Treatment room/7 rooms
Couple spa suite: 2 rooms Single spa suite: 1 room Single room: 4 rooms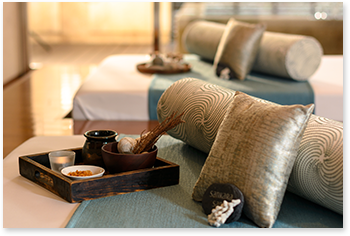 The premium suite room in the main hall comes with a spa room where you can enjoy spa treatment in the luxury of your own room. Relax and unwind with someone special in a private room or refresh yourself after trekking without having to leave your room.
See sankara suite here.
*Reservation must be made by the day before you would like to book a treatment.
*Please note that we are unable to offer pre-natal body treatment.
*Cancellation on the day of treatment results in a 50% cancellation fee. (Contact us if you are arriving later due to your flight being delayed or other reason.)